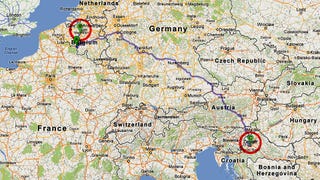 I've read plenty of crazy GPS stories, but this has to be the craziest of them all: a 67-year-old woman drove for 900 miles over the course of two days because of a GPS error combined with her complete lack of attention. Her actual destination was only 90 miles away.
We've written about Croatia's planned $980,000 electric Rimac Concept One supercar before, but with the same elbow-in-the-ribs skepticism rightly reserved for these endlessly rendered-yet-never built custom supercars. In our experience, about 1-in-600 ever gets made and the other 599 end up being part of some massive…
Rimac Automobili, the Croatian car builder that brought us the blisteringly fast electric BMW E30, is planning to show their first electric vehicle concept to the world at this week's Frankfurt Motor Show. According to the manufacturer their all electric supercar will produce 1088 horsepower and 2800 ft/lbs of…
There's nothing like a banked, blind wet turn into oncoming traffic to get your blood pumping. Now imagine the same turn with an off-camber split half-way into it. Great if you're a Croatian hoon, bad if you're anyone else.
What do you get for being the most beautiful woman in Croatia? Besides a trip to the Miss World competition and the respect (and by respect we mean ogling) of your peers, you get a brand new Chevy Aveo! While we're sure that Miss Tatjana Jeremic is very pleased by her win, we think if you're giving out cars based on…
When we had Intergalactic Malaise Era Torino day earlier in the week, we showed the Torino-versus-dumpster crash scene from the Torino-riffic film The Big Lebowski. It turns out that the influence of the "You see what happens, Larry?" Corvette/Torino-beating scene from the movie is so pervasive that even Croatians…
Aside from apexing a bit too close to pit road at times, and one inadvisable one-handed burn through the straights — while searching for a cameraphone to hand over to the passenger — this young viscount handles his Ferrari Enzo FXX quite deftly. According to a tipster, the track could be Rijeka in Croatia. The…
It's got some sort of inline motor on the front, and it looks as if it may have a moped-style variator in lieu of a transmission, unless that wheel mounted on the side of the motor is for a very powerful air-conditioner. But AC isn't in the Croatian Minimalist artistic vocabulary, so we're guessing that the Chinese…
The little-known school of Croatian Minimalism was an art movement that never exactly took off. However, while reader Kyle's pal Tom was traipsing across Europe, he spotted this fine example of the form; a rendering of an El Camino. Note the way the light plays off of the brutally simple pickup bed, or the artful…