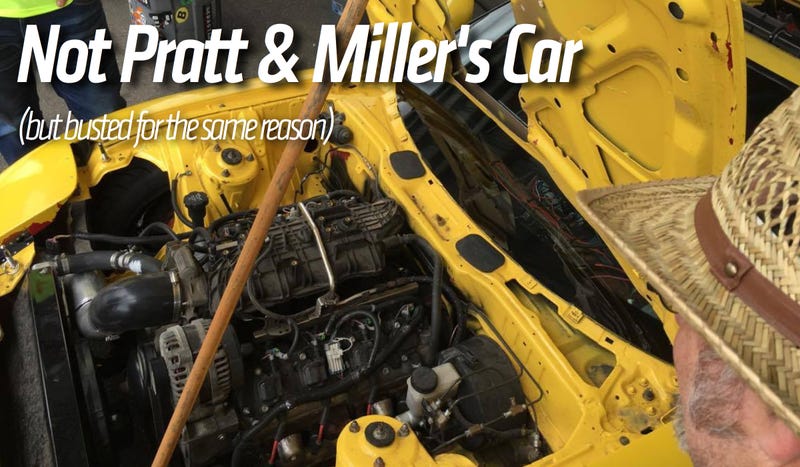 There's one thing the 24 Hours of LeMons is adamant about: documenting your cheating. Any parts added to the car either need documentation or they'll be assigned a value in inspections. If you swap "found" parts into an FD Mazda RX-7, you're going to invoke the "Pratt & Miller Rule," as this team did.

If any ordinary car goes boom during a 24 Hours of LeMons race, it's just a run of the mill (and probably expected) mechanical failure. When a GM U-body "Dustbuster" van dressed as a spaceship blows up, it's an event worthy of setting to "Also sprach Zarathustra." Stanley Kubrick, eat your heart out.

It's a bad sign when you blow up in the inspection line. From the 24 Hours of LeMons race at Barber Motorsports Park. Live streams from the Sonoma race can be viewed here.

Greetings, at least one foreign land that's gone "I wish we had something like that here" every time we've posted about crapcan racing. The 24 Hours of LeMons folks have opened up the 24 Hours of LeMons Australia. If all else fails, at least it's guaranteed to be better than this year's Australian Grand Prix!

Even if you primarily do other forms of racing, autocross can be a great place to shake down a car. You get to toss the car around at its limit like a total hooligan in the company of other car geeks. If things go wrong, you're in good, knowledgeable company. Oh yes, things went wrong when I autocrossed my 944.
Every weekend, somewhere, there's a race to watch. You probably won't find them on television, but you can get a lot closer to the action than you can with most pro races, and they're far more fun to watch. If you've ever felt as if pro racing is a bit too sterile or predictable, this is the place for you. Welcome…
All racing is endurance racing for the people whose blood, sweat and grease go into building and prepping a race car. Therefore you can imagine the massive disappointment I felt when all that work seemed to go out the roll cage when my car was shunted just minutes into a race. The only bigger FAIL would come from not…