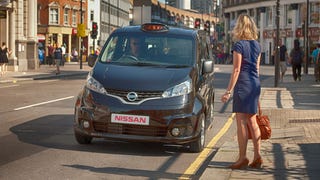 In 2013, the Ford Crown Victoria taxis will begin disappearing from city streets and will be replaced by Nissan's brand new NV200 van. It will be the first purpose built taxi roaming NYC in decades and promises to be the cab of the future.
The Nissan GT-R has been the last word in Japanese performance cars for ages. The latest generation car, the R35, is a world-beater.
Although Lindsay Lohan's latest car accident was pretty insignificant by itself, it could, in a more rational world, have been the proverbial straw that broke the camel's back where her driving privileges are concerned. Do we have to wait for her to kill someone before the Golden State takes away her license?
This fall, Ford will begin selling the C-MAX Energi, the plug-in version of its hybrid utility vehicle. Ford claims that it will be able to travel 20 miles in electric only mode, putting it ahead of the Prius plug-in and not far behind the much smaller Chevrolet Volt.
As we reported yesterday, it was revealed that the Nurburgring, which has been in financial trouble for quite a long time, is going to have to enter bankruptcy proceedings. Ill advised investments in a large shopping complex and a dangerous roller coaster are the culprits for the precarious situation.
A little more than a week ago, our own Bill Caswell expressed his displeasure at how BMW has been diluting the M brand with special editions that mean nothing and cars that no longer have anything to do with the word "Motorsport."