[While these are the two most common flags you see at a 24 Hours of LeMons race — debris and slow traffic — this marshal is actually celebrating the end of this year's 24 Hours of Le Mans. The class-winning Corvette C7.R was neither leaky nor slow. Photo credit: Ker Robertson/Getty Images]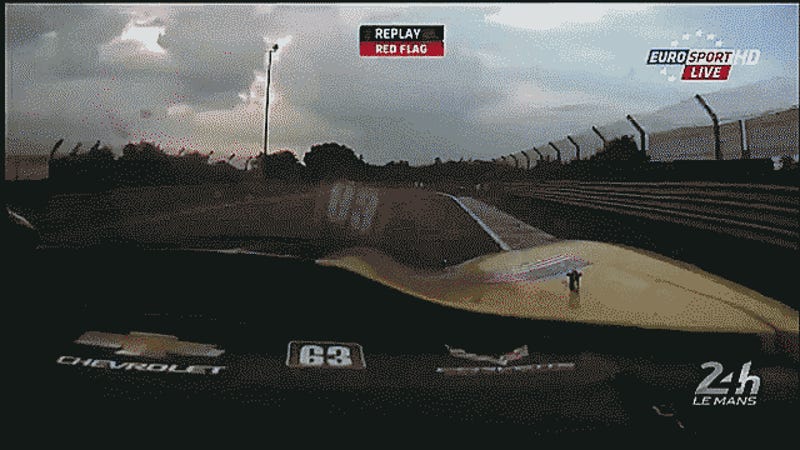 Corvette Racing was devastated to pull an entry from Le Mans for the first time ever, but given the smack in this video of the number 63 car eating the wall outside the Porsche Curves, it's not hard to see why.
Everyone knows and loves the classic Corvette racing yellow and black. Customer team Larbre Competition just updated that paint scheme with this wild yellow, black, green and white livery for their new Corvette C7.R. And oh yes, the World Endurance Championship's favorite 'Vette squad is back in a Chevy.
Along with the debut of the 2015 Corvette Z06 comes the debut of a new Corvette race car. The new C7.R promises to take up where the last Vette left off, and that's beating up on every other manufacturer in sports car racing.
The Corvette Racing program, like everything at GM, is under scrutiny in the Carpocalypse, but this hasn't deterred Bad Boy Vettes from penning this Corvette Racing C7.R concept based off a newly-revealed Autobot named Sideswipe.