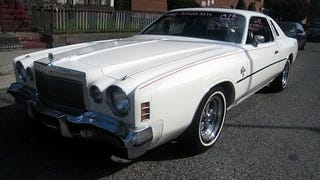 Do you like to get personal with your coupes? Well, today Nice Price or Crack Pipe has a Canadian Chrysler trying to pass for a hot Latin, and you can totally get up in its grill.
Fully 82% of you felt that the
$8,995 Cadillac Cimarron
was priced way too high, so we're going to make the choice more challenging this time. What would you say to a 70,000-mile, extremely original 1977 Chrysler Cordoba with all the options, Soft Corinthian Leather, and "Coffee Sunfire Metallic" paint? Thing is, the…
Is it possible to have too many Cordoba posts? Never! After in an Integra, in a Sentra SE-R, and in a soapbox derby championship race, Krider Racing is now channeling Ricardo Montalban and campaigning a '76 Chrysler Cordoba demolition derby car! They competed in the California State Demolition Derby Championship…
After seeing the
'78 Chrysler Cordoba
in Alameda, reader John Mopar (probably not his real name) hipped us to , which is equipped with a Weiand high-rise intake and dual Holley 650s perched on a 400 engine. Hate those damn environmentalists, their strident demands that we stop destroying the world, and, in fact, ? Do…
Welcome to
Down On The Street
, where we admire old vehicles found parked on the streets of the Island That Rust Forgot: Alameda, California. It had to happen, sooner or later; somewhere on the island, a Cordoba was waiting- soft Corinthian leather and all- for my camera. Now that day has arrived, with this '78 located…
It's got a 360. It's got glasspacks. It's got dogdish hubcaps. It's got a huge skull painted on the hood. In other words, it's fully optioned! This is the car designed for Ricardo Montalban's evil twin brother, Raul, who was serving 10-to-20 for manslaughter in a Madrid jail cell while Ricardo pitched the nice…
Since we've officially declared today to be International Corinthian Leather Day and all, we should probably hear from Señor Montalban himself. Here he is explaining to David Letterman just what's the deal with the Cordoba's super-special hides.


We make a lot of Chrysler Cordoba/Corinthian Leather jokes around here, but it occurs to us that perhaps some of our younger readers have never experienced the 1975 Cordoba ad that started it all. We hereby declare today International Corinthian Leather Day! All of you must use your cheesiest Ricardo Montalban…
Looks like Canada beats Italy in yesterday's Project Car Hell poll, though not by what we'd call a decisive margin. But that was yesterday, with yesterday's priorities; today we're going to honor Jalopnik Pimp Week by posing a Pimpmobile Dilemma for your voting pleasure!

Alameda isn't the only East Bay city with interesting machines down on the street; on a recent trip to a junkyard in lovely Hayward, I spotted this customized '78 Cordoba in the parking lot. I'm pretty sure Ricardo Montalban himself would be proud to ease back in this car's fine Corinthian Leather driver's seat and…
Oh, to wind down a coastal highway on the Iberian Peninsula with the sun low in the sky, clad in Sergio Tacchini's finest, Ricardo Montalban at our side, listening to Ennio Morricone scores on the eight-track. Truly the height of mad-studly bachelordom. If Dieter's got any sense, he'll perform a partial-birth…