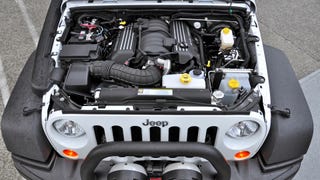 If you've logged into your commenting account today with your username and password, you probably noticed the prompt asking you to convert to third-party authentication through Twitter, Facebook, or Google. What's going on? Think of it like the AEV Hemi-Powered Jeep Conversion. It's a good thing.
If you're still experiencing issues with your Gawker Media / Jalopnik commenter account, you can contact help@gawker.com. Please be patient. Our tech team is responding to people as quickly as possible.
With holiday auto executive house-cleaning in mind, it's time for a crash course in comments etiquette. What can you do? What should you definitely never do? What, in effect, do we want from you, fellow Jalopnik gearheads?
Free comment invites! Just e-mail Pete today!
Apparently your words have moved our Gawker overlords to adjust the new threaded comment system announced yesterday to un-favorable reviews. We're now told comments will maintain in-line progression, and not go floating about all over the place determined by some strange algorithm. Thank the Gawker overlords, sure,…
Our Gawker bosses have decreed old-school in-line commenting is so 2005 and decided it's time for us to enter a new age of comments - the age of threading. Apparently all the cool kids are doing it and now, so will we. What's a threaded comment, you ask? Threading is a way to make comments read more like conversations…
Al Navarro is a co-founder of Mint Advertising, an independent advertising agency in New Jersey. On occasion we ask him to talk about certain topics in advertising. Today's not one of those days. Today he's talking about something even more near and dear to his heart — Jalopnik. He also drives a Caterham Superlight R…