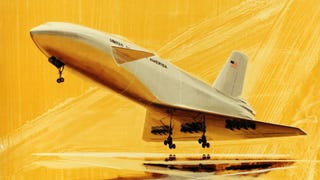 The arrival of Endeavour in Los Angeles last week has been described by many as the final note in the coda to NASA's shuttle program. To commemorate its end, we turned to the program's beginnings, where we discovered a stunning assortment of high resolution concept art. (If you've been hunting for a new background…
The Navy is good at naming things. Example: the Beach Master Unit 1. Here's BMU1 supporting a humanitarian and civic assistance mission in Colombia. Photo Credit: Mass Communication Specialist 2nd Class Jonathen E. Davis/U.S. Navy.
Colombia is not home to many important racing championships, so how they birthed racer Juan Pablo Montoya was a bit of a mystery until we learned about the country's famous downhill homemade car race — the approximate equivalent of NASCAR.