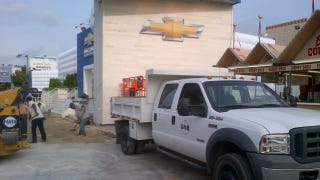 Chevrolet's media team will be thrilled when they see this photo of workers using a Ford SuperDuty to setup the Chevy Trucks display at the Texas State Fair. Although to be fair, at least it's not another recall notice. That would just be embarrassing.
UPDATED! Ford's not pleased with the Chevy truck super bowl ad that implies Ford trucks aren't built tough enough to survive the Mayan apocalypse. How upset are they? They're so pissed the automaker's sent letters to both GM and NBC asking them to pull the ad from tonight's big game.
If you were used to rough days picking it up and dropping it off Chevrolet had the truck for you in 1985. According to this vintage commercial more Americans worked with Chevy trucks every day—and the company had the footage of their trucks living the blue collar lifestyle to prove it.
After disclosing yesterday that the GMT900 full-size truck/SUV platform will likely last beyond its original 2012 expiration date, a new report says that future trucks may appear on the Lambda platform. Using Lambda, the foundation for current GM SUVs such as the GMC Acadia and Buick Enclave, would mark a shift away…