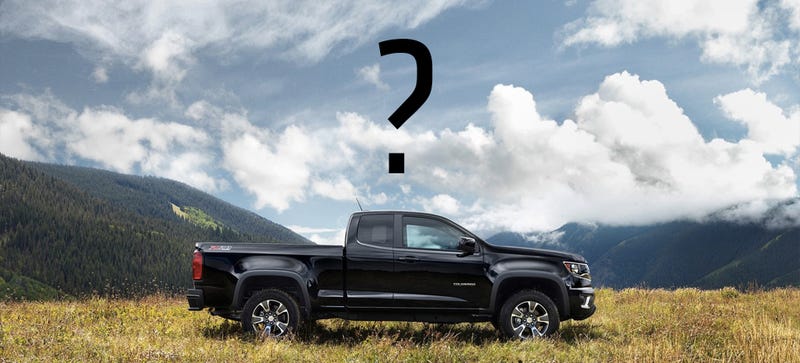 Now doesn't seem like a good time to buy a diesel Chevrolet Colorado or GMC Canyon. Just ask the people who have tried, and are without their trucks months after placing orders.
Do you like the Chevrolet Colorado and GMC Canyon? I do. I've driven both in V6 form and found them to be comfortable, useful, maneuverable and decent-sized trucks with more than adequate power. But what if it had that sweet, sweet diesel torque instead?
GM trotted out this lifted, armored, diesel-powered 2016 Chevy Colorado ZR2 at last month's LA Auto Show and proved the company had the off-road market on their radar. Rumors suggested Chevy might actually the ZR2 happen in as little as three to six months, at least in Canada.
GM's recalling 185,000 Chevrolet Colorado, GMC Canyon and Isuzu compact pickups after the National Highway Traffic Safety Administration (NHTSA) found the child seat anchor system doesn't comply with federal safety standards. Another solution? Don't have kids. [PickupTrucks]
The 2009 Chevy Colorado V8 just spent some time in the hands of PickupTrucks.com and they found the belated addition of three cylinders added some pep to the General's aging mid-size truck. [PickupTrucks.com]