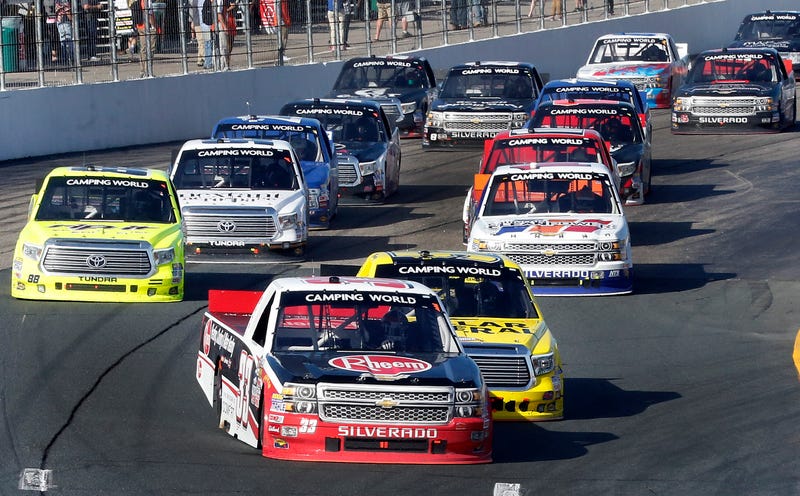 The NASCAR Camping World Truck Series could see some big championship changes in its future—according to reports from Motorsport.com, a format mimicking the Sprint Cup Series' Chase is under consideration. As ironic as it is, reports of these talks come during Matt Kenseth's suspension for intentionally wrecking…
NASCAR driver and former Jalopnik editor-in-chief's personal nightmare Jeff Gordon's only win of his last year in the Sprint Cup is a meaningful one. By winning today at Martinsville Speedway, Gordon gains an entry into the final Chase for the Sprint Cup shootout at Homestead-Miami.

[A crew member congratulates Jeff Gordon after qualifying on pole for today's race at Talladega Superspeedway. Gordon's Hendrick Motorsports team qualified in four of the top five starting positions, with teammate and fellow Chase for the Sprint Cup driver Dale Earnhardt Jr. coming in fifth. Photo credit: Getty Images]

Something that may or may not come into play today's NASCAR Sprint Cup race at Talladega Superspeedway is the ending to last week's race. Driver Matt Kenseth is still adamant that Joey Logano spun him out intentionally when he was in the lead, and being quite vocal about that fact to anyone who will listen.

Let's call the Chase for the Sprint Cup what it is: a playoff. When you're closing out the season, that's the worst time to start enforcing rules more strictly. After an unusually strict restart penalty, Brad Keselowski called NASCAR "an entertainment sport" as opposed to a "fair" one, questioning NASCAR's credibility…
Volkswagen isn't the only entity caught with stuff on their cars that violates the rules this week. The number 15 Michael Waltrip Racing car of Chase for the Sprint Cup participant Clint Bowyer was found with improperly installed parts found during the opening day inspection last week at Chicagoland Speedway.
After finally cracking into the top 30 in the Sprint Cup standings last weekend with a second place finish at Watkins Glen, Kyle Busch had an unfortunate off in practice this morning that will force him to use a back-up car for tomorrow's race. Per Autoweek, that back-up car means he'll start from the back.