On a restart with 10 laps to go in the NASCAR Sprint Cup Series season finale, championship contenders Carl Edwards and Joey Logano got feisty and made contact. Edwards wound up in a wall, Logano sustained some damage and poor Martin Truex Jr. wound up with a fireball of a race car.

An hour before the start of the NASCAR Sprint Cup Series finale at Homestead-Miami Speedway, the cars of three of the four championship drivers had yet to pass technical inspection. The No. 18 team of Kyle Busch was the only one on the grid, and NBC Sports Network said the other cars failed three different times.

NASCAR Xfinity Series competitor Daniel Suarez, who Motorsport reports became the first Mexico-born driver to win a NASCAR national series race with an Xfinity Series victory at Michigan International Speedway in June, took the series title with a win at Homestead-Miami Speedway on Saturday night.

While running in front of Chase driver Kevin Harvick in the AAA Texas 500 at Texas Motor Speedway, Austin Dillon wound up in the wall. The wreck, Dillon said, was because Harvick wasn't happy about a "silver-spoon kid" outrunning him. But it sounds like Dillon's still mad about an insult from three years ago.
These engines just don't want to cooperate, do they? Much in line with the luck of NASCAR's Chase for the Sprint Cup drivers so far this year, Brad Keselowski joined Martin Truex Jr. in the Talladega Superspeedway garage for a blown engine.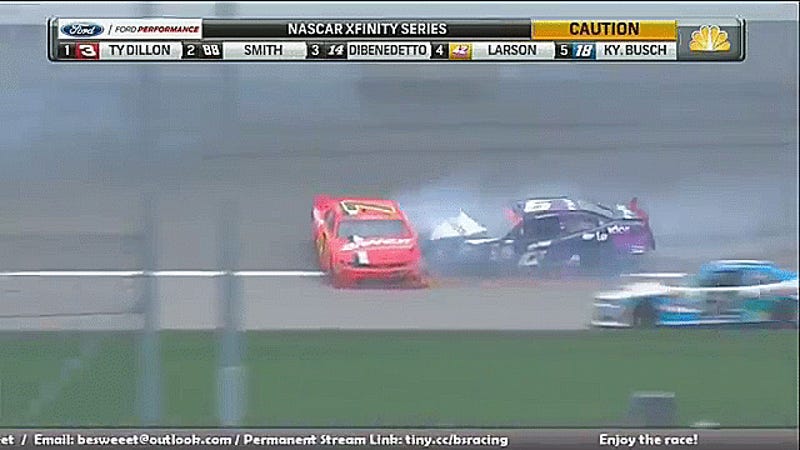 Most of the drivers who qualified for the Chase for the Championship in each of NASCAR's top-three series have had terrible luck since the Chase races started. Seriously. With this kind of bad luck, it's surprising that they qualified for the championship races in the first place.

The "Big One" is NASCAR a term typically only used at car-eating tracks like Daytona International Speedway and Talladega Superspeedway. But the Chase for the Championship thus far has been cruel to drivers going for the Sprint Cup Series title, and this huge wreck in Charlotte collected half of them.
I honestly can't tell you what's going on in this video from NASCAR's Facebook page, other than it recaps the first three Chase for the Championship races and that the drivers look like a bunch of Power Rangers running around. What I can say is that it is truly, honestly, the most entertaining thing I've seen all day.