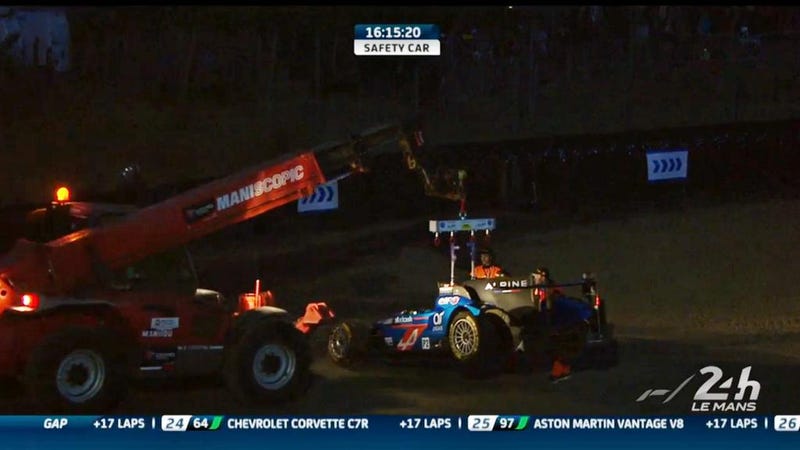 Did you take a catnap, have to wee and/or get held up by some fartknocker making an eighteen-point turn in a Ferrari on a glorified cowpath? Never fear! In addition to the live-blog, here's our round-up of the biggest reminders so far that endurance racing will eat your car.
Sometimes a saw is just a saw. This one wasn't. It belonged to my grandfather and helped me build a ladder rack for my '78 International Scout Terra. I paid it back by running it down in my driveway.

You can't win 'em all, but you can read the sorry tale right here.
Torrential rains flooded an underground parking structure of Singapore's St Regis Residences at Tanglin Road, causing major water damage to several exotic sports cars owned by residents of the luxury tower. Heavy rains also damaged a local mall, so no shopping therapy either.
Here's amazing video of flood waters flushing cars down a street in the Italian village of Atrani on the Amalfi Coast last week.
We hope everyone had a very Happy Easter weekend. Also, we hope someone saves some Peeps for those of us who can't eat them right now because of Passover. Corn syrup, FTL! [ via raywert]
Moose are proving to be the bane of the open road roadway. Before they were just eating our cars, now apparently they are committing auto-assisted Seppuku. After seeing those gloriously gory photos of a BMW being outfoxed by the local wildlife, reader Jeffrey Schmatz called us dainty little girls and sent in pics of…
Imagine cruising in your brand new, 2007 BMW 320D Touring at 230 kph (~143 mph) along the pristine asphalt of the Autobahn, listening to the finest in German techno. All of a sudden from the roadside, a flash of fur streaks across the road and you feel a mild thump, accompanied by a spray of rouge across the bottom of…