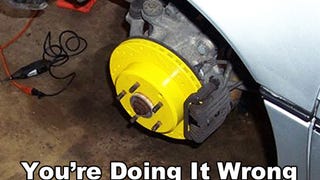 Every now and then we come across something so foul, so disturbingly stupid, so "WTF were you thinking," that we begin to question the legitimacy of our love of cars. This epic DIY failure is one of these moments.
We've seen some pretty crappy DIY craftsmanship before, but these examples take the cake. What's amazing is these DIY'ers know how to post on the internet, but not how to research. EPIC FAIL.
The Carpocalypse is forcing many people to unload unnecessary luxury items, but the guys loading this Aston Martin had the absolute wrong idea of how to go about doing it. See the damage below.
Wanting to take part in the winter festivities, this 47,000 pound articulated CAT rock truck goes sliding down a snowy hill and promptly eats it. No folks, Snowpocalypse is not the new Carpocalypse.