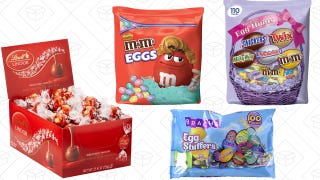 Nobody, I repeat, nobody, will be upset to get a five pound bag of Haribo Gold Bears for the holidays. You don't even have to tell them it only cost you $10.
This is not a drill. I repeat, this is not a drill. This five pound Haribo Gold-Bears deal was available briefly last weekend, but if you missed out, here's another chance. If you pay extra for the one day shipping, you'll have it in time for a wild weekend.

A Brinks truck hauling anywhere between $3-and-$9 million in Canadian coins (about $3 to $9 million in real 'merican money) was part of a chain-reaction collision involving another truck this morning that caused the armored transport to spill its heavy load on an Ontario highway. Oh, and one of the other truck's was …
Now that you got that pesky dinner taken care of, how about the after dinner chocolates? Nothing says "I love you just a little bit less than my current project car" than a nice set of gearhead chocolates.