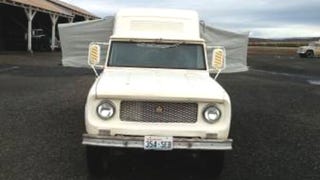 Looks like there was a factory or extremely clean aftermarket camper conversion for the first-generation International Scout, and I think it's just dethroned the Toyota Chinook as the most adorable microcamper sold in America.
I'm not exactly sure what black machinations cause these things to happen, but in the past few days I've had ton of people talk to me about this amazing video. We've actually written about it years ago, but for whatever reason, the collective conscious is thinking about roof-mounted small-car campers. Why fight it?
It was just last week when I thought it was best to stick with some kind of Volkswagen Transporter if you want a camper vehicle. Mini has decided it needs a place in the small-vehicle-you-can-sleep-in stakes and released pictures of new designs for you to study. Fascinating.
"People this pathetically insane should not be allowed to drive," writes the Reddit user who took this photo (outside a DMV in Salem, Ore.), but that's just another big-government liberal trying to tell us all what to do. Because, first of all, what's pathetic about covering your ancient camper with extended political…
Elton John released the album Rock of the Westies all the way back in 1975, featuring the duet with Kiki Dee — Don't Go Breaking My Heart. Today's Nice Price or Crack Pipe VW Westie rocks a 1.8T, but will its price have you singing don't go breaking my bank?
A Denver man sleeping in the camper of his 1993 Ford pickup woke up Tuesday to find a thief driving the pickup away, thanks to keys left in the ignition. Police ended the free ride quickly. (H/T Chad!) [DenverPost.com]
Our story of the VW Amarok motorhome begins in the 234th year of the United States, or 2010. In a modernist condo in Palo Alto, there lived a guy named Gary Jr., whose Brioni suit exuded something people called "expensive."
Are you a car geek and a birdwatcher? Virginia-based woodworker Jumahl makes vintage camper birdhouses. Hang one above that disintegrating Camaro in the yard and enjoy the ornithological action. $60 with shipping. (Photo Credit: Jumahl)
There was a time when we thought the Honda Element Camper was the ultimate post-Westfalia portable camper. Then we saw the appropriately named Toppola camper shell made for a number of Saab hatchbacks. Starting with the Saab 99 combi coupe, the conversion was quick and involved mostly removing the hatch and dropping…