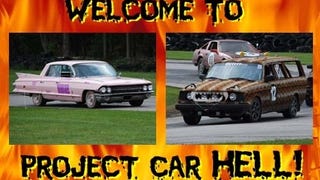 Welcome to Project Car Hell, where you choose your eternity by selecting the project that's the coolest... and the most hellish! Wearing a helmet in your daily driver is cool. Really!
If you were outraged by our neglect of your very favorite films in the 12 Greatest Car Movies post, get ready to blow your remaining head gasket! It's time for Murilee's Maddening Movie Machines!
Welcome to Down On The Street, where we admire old vehicles found parked on the streets of the Island That Rust Forgot: Alameda, California. Today we're going to return to a couple of old friends.
If and when I ever run out of Down On The Street cars in Alameda, all I'll need to do is head across the Bay to find another vast storehouse of old street-parked machinery. San Francisco is rough on cars, but that just means that the old veterans boast that many more character-building battle scars. Take, for example,…
Well here we are, Round 2 of Jalopnik-style madness. After the first round of voting, we've eliminated half of the 32-car field. And there sure were some upsets; Parnelli Jones' Big Oly Bronco losing to some white Italian car being perhaps the most shocking. We even had a last minute buzzer-beater, with "Billy"…
Yesterday, we gave you the brackets. Today, the voting begins and Jalopnik-style March Madness ensues. If you haven't finalized your own bracket for the office pool just yet, hurry up! The field of 32 cars from the original 1974 film Gone In 60 Seconds is about to get narrowed down by your votes. At the end this…
Interested in all the March madness tournament bracketry, but not really into college hoops? Maybe you're looking for a way to redeem yourself after penciling-in Duke to go all the way? Whatever the case, we've decided to throw our own Jalopnik-style bracket-madness party! Instead of basketball, we've got cars! And…