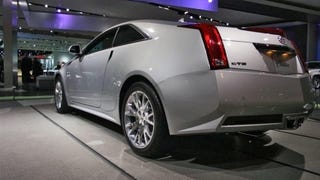 Let's be honest, there aren't many performance advantages to the new Cadillac CTS-V Coupe. It's two inches shorter, 18lbs lighter, and less likely to pack hundreds of pounds of knuckle-headed passengers, it does have a nice big back end.
Cadillac spokespeople confirmed with us Friday the Cadillac CTS Coupe will receive a 2011 model year designation, hitting dealer lots next May. But with the two-door Cadillac receiving the same engines as the CTS sedan, whither the CTS-V Coupe?
The 2011 Cadillac CTS-V Coupe has made its camouflaged debut with huge wheels, bulging bodywork and a far more aggressive attitude to go along with all the "V" details one might expect.