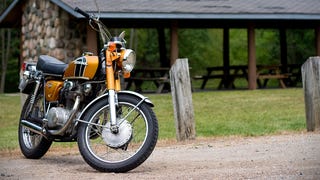 I was a salesman at a Honda motorcycle dealer in the 1970s. One day a kid and his father came in to buy a CB360. The kid was a spotty, monosyllabic little brute with a constant sniffle and two bold-face periods for eyes. The old man's jaw was cocked to one side as if someone in his past had decided it needed punching.

I've envisioned our car buying guides as living, evolving references (as opposed to the fairly static ones you find elsewhere). In that vein, we've taken a lot of your feedback and applied it to the guides we're rolling out this week and into the future.
You want the capability of a truck but can't be burdened with something you need an air-traffic controller to help park. Your "mid-sized" truck options may be limited in the US, but they're about to get a whole lot better. Here's a roundup for what's out there now.
Many, if not all of us, have at one point looked at an airplane and thought how neat it would be to own something like that. Just like how many of us stared at our Countach posters in our bedrooms and thought the same thing. A few of us even become inspired to be actual pilots so we can have a shot at flying something…