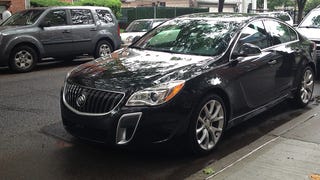 While I desperately try to think of a story idea about the Fiat 500 Abarth that isn't just me writing "ohmygoditmakesmesohappy" a thousand times, The Powers That Be have deigned it appropriate to cleanse my pallette with this, a 2014 Buick Regal GS. And yes, it's got three pedals and a six-speed.
Outsourcing your ad work to random people can work out either really well, or really badly for automakers. Luckily for GM, this ad made with nothing but some basketballs, a Buick Regal GS, and a single camera is great. Add in the fact that it was done in just one take, and it becomes amazing.
The Buick Regal GS gets 270-hp, 295 lb-ft of torque out of its 2.0-liter four-cylinder engine for a wheel-twisting 135 hp-per-liter, giving it the highest "SAE certified" hp-to-liter ratio. Unfortunately, all that power still gets pushed through the front wheels.
GM's confirmed the Buick Regal GS is headed for production. What's this mean? In all likelihood a 255HP, high-pressure turbocharged, direct-injection four-cylinder, manual six-speed, Haldex AWD system and bodywork from the show car. Careful Buick, you're courting our love. [DetNews]