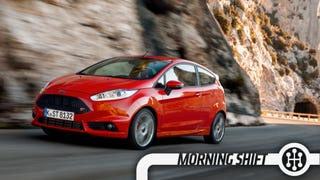 This is The Morning Shift, our one-stop daily roundup of all the auto news that's actually important — all in one place at 9:00 AM. Or, you could spend all day waiting for other sites to parse it out to you one story at a time. Isn't your time more important?
As I understand it, the "steering wheel" is a necessary component in making a car change direction. If the "steering wheel" becomes detached, then the car can no longer turn. Sounds like a minor issue, but Buick is recalling 144 Encores because they see a "steering wheel" falling off as a major problem.
One of the quieter introductions at the Detroit Auto Show was Buick's new mini-crossover, the Encore. It's not an enthusiast vehicle, but it is an interesting take on Buick's ongoing effort to break its reputation as a brand for "the olds."