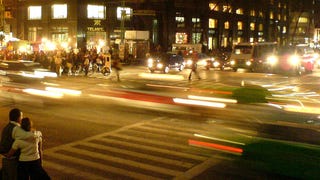 You think the idea of sign-free crossings is nothing but a libertarian dream? Think again. A broken traffic light in a major Budapest intersection reveals how beautifully humans adapt to chaos. Video below.
A world apart from bestickered American rally professionals with comic-book names, we join the the snow drifters of Hungary, who like it cold, fast, and loud.
While not to the extent of The Snowpocalypse on the East Coast, Budapest has received its fair share of snow, which delinquent car geeks have put to excellent use.
This ad campaign is intended to deter drunk driving in Bucharest by reminding drinkers of their inebriation while they're peeing. Think it'll stop people or just encourage accurate pissers that they're ok to drive? [Copyranter]
Video maestro György Szeljak—no stranger to Jalopnik—has finished his latest car piece, which features a boat load of scantily clad women and tuned automobiles. Click to watch (potentially NSFW).