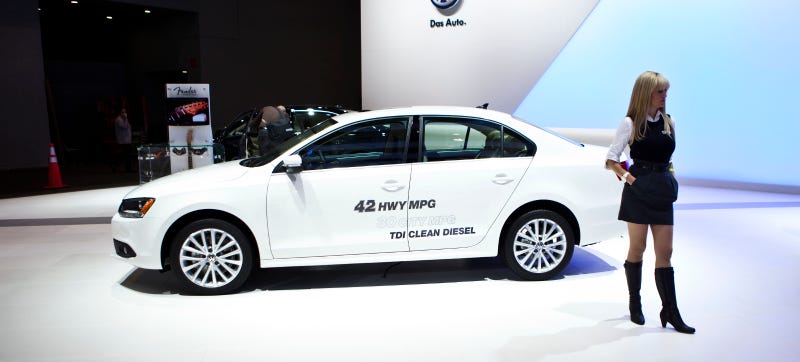 In case you were wondering when the supplier who provided Volkswagen's cheat-ridden engine management software would come under fire, Reuters reports that United States federal prosecutors are investigating supplier Robert Bosch GmbH's role in the dieselgate scandal.
Countless states have laws preventing you from using a smartphone while driving, but trying to find a button on an in-dash navigation system is just as distracting. To remedy this, Bosch has created an automotive touch screen with buttons that feel real so they're easy to find without taking your eyes off the road.
The California DMV is in charge of overseeing autonomous car testing in the state. Part of that includes ensuring the people operating the fleet of robo-cars are properly trained, but because the DMV is incapable of getting its shit together, that means some companies only require a couple hours of training before…
They may not look like neon silver bean-eggs like the Mercedes F 015 concept, but the autonomous cars are coming, and they're coming soon. How soon? If Bosch gets their way, then cars will have full autopilot by 2025.
Ironically, it was easier to decide to purchase an all electric Solar Orange BMW i3 than it was to decide on which Level 2 Charger to buy. BMW sells a very nice looking charger, the BMW i Charging Station, for $1,080 and as with all other chargers installation is extra.
The BRE Datsun 240Z a few weeks ago reminded me how much I love old-school slide film. This is a 1972 Porsche 917/10 that I shot on Kodachrome in 2006. Could anyone else stare at this all day?
We didn't make it to Bosch's annual technology colloquia and pot-luck luncheon this year, but that didn't stop the Boxberg proceedings from proceeding as scheduled. Our absence means we missed a symposium to suss out changes in the US market car companies must manage to make it into the post-SUV age. Major talking…

The rains couldn't keep Leno's Tank Car from exhibition at the Woodward Dream Cruise, but the boys at Bosch were kind enough to drop a tent over it to make sure no damage would be done to the one-of-a-kind engine on wheels by the not-so-much torrential downpour. If y'all remember, his 9500-lb. hot rod's humongous V12…
The cranks over at Banks are at it again, in collusion with GM, Garrett Turbo and Bosch. After the all-conquering, streetable Bonneville Dakota, what was next? How about a diesel road-race truck? Says company honcho Gale Banks, This truck will successfully compete heads up against the best in gasoline-powered road…