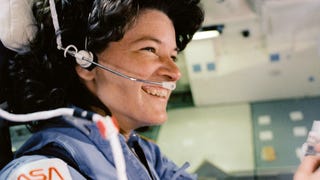 When Sally Ride died in 2012, her obituary noted a new fact that was widely picked up: that she was survived by her partner, Tam O'Shaughnessy. The first American woman in space suddenly became a more complicated figure. Now Lynn Sherr, a journalist and friend of Ride, has created a brilliant and eye-opening biography.
Sunday marks nine years since Volkswagen rolled out the Ultima Edicion of its famed Beetle. As of today, no car has had the impact on personal mobility that the Beetle did during its 65 years of production.
As author Jason Vuic points out in The Yugo's introduction, the Yugo wasn't really the worst car in history. How did it capture the role of Worst Car Ever in the mind of most Americans? This excellent book explains all!

I've been letting the titles stack up in the Jalopnik Book Review On-Deck Circle- including a really intimidating 75-pound slab of onanic Porschism- so let's get back into this book-review thing with a fun one!
Whether you're wrenching on a flying Spitfire or a leaking Spitfire, Haynes has a shop manual for you. Very useful, but hardly the sort of thing you'd keep on your coffee table.