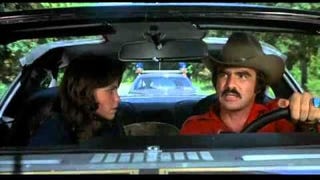 During my cross-country interstate expedition last month, I was pretty excited to fire up an old CB radio I'd found amongst a pile of my things before leaving. Finally, I'd be able to make my wildest Smokey and the Bandit/Dukes of Hazzard radio banter fantasies come alive.
Few people know Ford experimented with turbine engines designed as possible replacement for diesel power in their large commercial trucks back in the early 1970s.
According to the title of this video, this impressive semi truck jump captured at Evergreen Speedway in Washington state set a world record. We can't find anything to prove it is, so we're simply going to call this jump what it is—awesome.
Hot Rod Magazine got 9 time Pikes Peak Class Champion and Pro Racer Mike Ryan and his Freightliner to the Toyota Speedway to prove there is at least one Big Rig that can drift. (Hat tip to autoedit!)
We have found the 2007 Jalopnik Bullrun vehicle (we'll run the Justy in 2008, Bumbeck). You are looking at the truck that quirky Dutch brand DAF used to win the Paris-Dakar Rally in 1987. Long story real short, this monster rig is a semi-truck filled with spare tires, navigation equipment and an 11.6-liter…