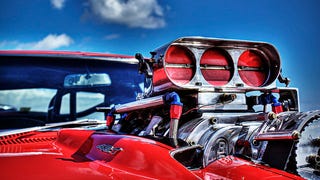 A blown 427 big block sticking out of the hood of a second-generation Corvette Sting Ray sure makes it look a lot less like a car with refined design inspirations like the Jaguar E-type. We approve. (Photo Credit: stevoarnold)
You have to wonder why rolling up to your pending nuptials in the Ferrari F360 limo is even on the table when things like the Rocket Ship Car exist. This retired amusement park ride from the Euclid Beach Park in Ohio was transformed into a custom people-pleaser with some serious hardware in the till. According to the…

Once again, Denver's own Kitt has found an interesting vehicle parked on the streets of her city, and had camera in hand to capture it for use. Now, this might actually be a "big-block" El Camino (with a 267 or 305 or even a six-banger under the hood0, but then you figure there's no point in doing an emblem upgrade…
Sure, it's Maximum El Camino Day, but we mustn't forget that the classic El Caminos of the '64-72 Musclecar Era were Chevelles with truck beds. Here's an ad for the '70 Chevelle SS 396, which wisely doesn't make any references to the 396's LS6 big brother. Hey, maybe the G8amino will have hood pins as a factory option!
What do you do when you have a 454 c.i. chevy big block V8 and a massive amount of winter precipitation? While there are those among us that would rather toss it in a LeCar, Kai Grundt decided a six-year journey to create the world's greatest V8-powered snowblower was the way to go. Remember: engine displacement =…
That right there's a 522 big-block Chevy engine full of Twin Turbo goodness from the boys at Nelson Racing. It's got an output of about 2000 hp, and requires a parachute on the rear bumper. Not too shabby if you ask us. In fact, it's just plain sick — but sick in an absolutely beautiful way.
With a decent spot of snow coming up the eastern seaboard later today, those of us of Jalopnik Northeast wouldn't mind having one of these suckers to pilot across the sidewalks of our beloved urban jungle. We'd watch the small dogs rotate with fear in their sweaters from Bergdorf Goodman as we turn the 412 V8 horses…