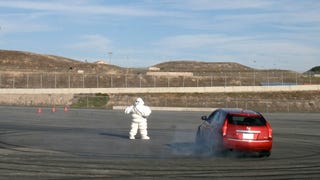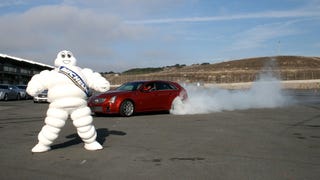 We can't tell you how the Cadillac CTS-V Sport Wagon drives until Monday morning at 12:01 am. But, we can show you what it looks like when you murder the Michelin Man's children as he sadistically dances on.
Le Mans, June 2010. What, exactly, is going on here? What happened next? Do we even want to know? And why does the smile on his face look so... dirty? Photo Credit: Bill Caswell/Chaos Motorsport.
As you can tell from this cinematic experience, I found Detwa to be tres magnifique. I want to say a big merci beaucoups to my comrades-in-arms — the automakers who kept my champagne glass filled and, of course, les femmes.
How you say, fromage de la porc en anglais? No matter, for we have provided you silly English-speaking so-called auto journalists a restaurant guide Michelin makes for zee Detroit Auto Show. Malheureusement, they're all in Ville de Nouveau York. Eh.
I am the latest change for Le Jalopnik. Je m'appelle Bibendum — the new guest blogger for Le Detroit Motor Show. I hail from France with many years — 115 — of experience in automotive and bicycle industries.
The brilliance of Wikipedia is vigorous peer review on even the most minute detail and completely humorless administrators. That genius produces a fairly reliable and constantly evolving public encyclopedia. Unfortunately, it also manages to kill some absolutely brilliant fiction in favor of maintaining the "truth"…
Our buddy Mateo sent us this shot of Michelin's Bibendum mascot performing the "warm and charming" Thai wai greeting to customers of a local repair shop. It sure shows more cultural sensitivity than Coca-Cola telling the Chinese it brings back their dead ancestors (Coke Adds Life), or Chevrolet asking Mexicans to buy…