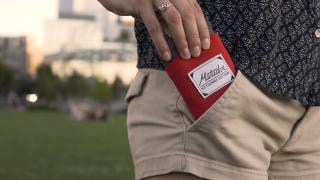 Winter had one last hurrah this week, but warm weather is just around the corner, and you can enjoy it to the fullest with this pop-up sun shade.

There are a lot of strong opinions on shorts out there, but one thing is certain, if you do invest in a pair, they need to be versatile and fit well. The Myles Everyday Short easily achieves both these objectives, and with code KINJA20 you can get a pair for $51 shipped- their lowest price ever. Choose navy, black, or…
Beach chairs have it tough. They have to be simultaneously light enough to carry, yet sturdy enough to keep you comfortable, all while resisting the corrosive forces of sun, salt, and sand. To put it simply, a lot of options out there simply aren't up to the task. So we want to hear from our readers: What chair should…
Somebody decided the beach of South Padre Island, Texas was just a fine place to park a semi-truck cab, until it was static as a dead whale. Luckily for them somebody showed up with a stout pickup, which beat that old devil wheelspin to rescue the rig.
Yesterday was one of the hottest November Sixths we can remember. According to the owner of the bodega, it hit 93 in LA, although we're sure it was a bit cooler in Pedro. Nevertheless, it resulted in some of the worst harbor smog we've seen in the year Jalopnik's Los Angeles bureau has been in operation.
Pininfarina's released a press kit on the Ferrari P4/5 it created for James "Big Daddy" Glickenhaus, ahead of the car's debut at the Pebble Beach Concours D'Elegance next month. They've including imagery of initial sketches, wind-tunnel testing, first-drive day and a candid shot of Glickenhaus talking his accountant…