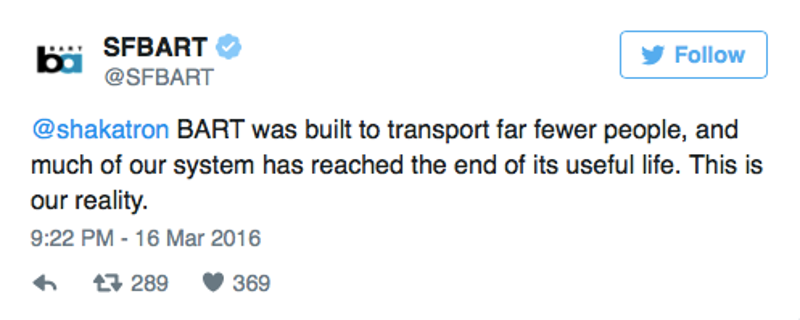 The trains around San Francisco (the BART, or "Bay Area Rapid Transit") is a mess tonight, as it is most nights. Just ask anyone from San Francisco! Tonight is such a mess, though, that whoever runs the @SFBART Twitter account decided to be very honest with its indignant followers.

Muni, the subway that's part of San Francisco's Bay Area Rapid Transit system, shut down Thursday morning after an alleged drunk driver drove his Ford Escape two blocks into a train tunnel. According to reports, the SUV was traveling at about 40mph as it entered the tunnel, and was heading against train traffic.
Inspired by Top Gear, BMW's Designworks arm will develop new train cars for San Francisco's aging BART system that will go online in 2017, vowing "a premium ridership experience." So that's how they're going to move those X5 GTs.
While the distinction of the lamest public transit agency in the Bay Area may well have to be handed to Contra Costa County's County Connection and San Francisco's Muni is certainly the most notorious, BART totally wins the expensive crybaby prize. From worker strikes to fare hikes, the agency just can't seem to…