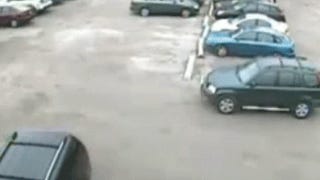 It seems like the very worst drivers on the road are the ones that think they're the next Mario Andretti. Jalopnik readers are here to help them see the light.
Note to this dickbag in a Ferrari 458: It's not certified hoonage if you're putting innocents at risk. Watching him cut blind corners and blow past cyclists like they're signposts makes us wish there was a car-to-car rocket launcher. But those risk collateral damage too.
Bad driving isn't endemic to a specific location, but there's no arguing that poor drivers tend to congregate on the coasts. This selection of ten horrible Los Angeles drivers comes courtesy of Mike at L.A. Can't Drive. —Ed.
A Korean woman has passed the written driving test on her 950th attempt. Having tried nearly daily since 2005, she finally managed to meet the minimum score of 60% and now plans to attempt the practical test. [AP]
Spend just a few minutes driving on congested New York City streets, and you'll immediately see some of the world's worst driving. GMAC's fifth National Drivers Test reveals just how horrible — along with news drivers nationwide are getting worse.
According to the photographer, the owner of this BMW 335i parks like this every day. [Imageshack via Reddit]
Anyone who's done any driving around the San Francisco Bay Area will likely flinch at the mention of the dreaded Caldecott Tunnel, whose crazy merges and direction-changes provide the perfect petri dish for growing cultures of bad driver behavior. Cynthia Gorney has written a humorous (yet deadly accurate) piece…