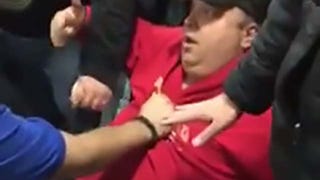 The reportedly drunk heckler who drew Tony Stewart's ire at the Chili Bowl nationals last night, prompting the NASCAR star to angrily confront him in the stands is a Tulsa County sheriff's deputy according to an update today by the Tulsa World.
A Philadelphia police officer has been suspended after pulling over a driver and threatening to impound his car unless he and his friend purchased tickets to a police benefit. The men in the car caught the shakedown on video, along with the officer dropping some casual homophobic slurs before he let them go.
Feeling all warm and fuzzy about cops because they hand out Christmas presents? Great. Here's a police officer breaking the law, running through a red light, and smashing into a random driver.