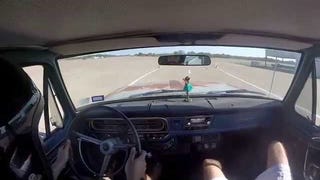 Everybody knows autocrossing a pickup truck is the most fun you can have with lateral g-forces three feet off the ground. Oh, you didn't know that? Better take a ride in this classic F-100 pickup and see what it's all about then.
Yesterday at Cherry Valley Motorsports Park, the Central New York region SCCA held a two-event Autocross day, one event started in the morning, and one started after the sun set. I go to Autocross all the time, but nothing prepared me for autocrossing like this. It was simply insane. Looking ahead, while extremely…
"View's a little different from up here," said an SCCA instructor kung-fu gripping the passenger handle of the black-striped red 2014 Ford F-150 FX2 Tremor. I was criss-crossing the race line on his track like Barney Gumble at a sobriety test and of course, he was right. Truck yeah we went auto-crossing in an F-150.
As you may know. Last year I won the Jalopnik and Blipshift T-Shirt contest thanks to my "Smoking Permitted" design and the grand prize was a one day, High Performance, Skip Barber Racing School. I Registered for the course at Road Atlanta on March 18th, and hit the road!
Hotstang has truly earned his Super Dork ranking over at the Grassroots Motorsports forum. His plan is to mount a cheap drugstore camcorder in place of one of his stock Mustang fog lights, then hack into it with 99-cent store cables for EZ USB download of AutoX racing action. Follow along with the project as it…
For those willing to make the leap and stop pretending their Audi S4 RS4's are anything but pure performance machines comes this sport sway bar package from Hotchkis Performance. The 35MM front bar stiffens things up by 60%, while the two position 29MM rear bar is adjustable from +235% to +305% stiffer over stock.…

A late season rain storm rolled into sunny Los Angeles a few Fridays ago, just in time for us to go down to the Santa Anita race track and blow our meager earnings on the ponies slide around on wet autocross course set up in the parking lot of the San Gabriel Valley horse track. Only a few journalists were on hand…