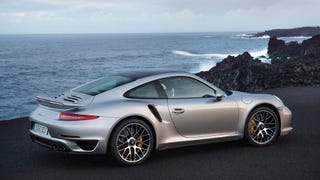 Among gearheads, it's the ultimate bar-stool conversation: If you had money to burn, what car would you buy? The Porsche 911 Turbo S—top of the line of what is arguably the most iconic sports car of all time—always comes up. So recently, I got my hands on one to find out if in fact it was the one. The rare, all-wheel…
One of mid-century America's great automotive writers was Ken Purdy. So regarded is his work that every year the International Motor Press Association presents the Ken Purdy Award to an outstanding writer covering the automotive world. Before his passing in 1972, Purdy wrote numerous articles for Playboy and we…
All this week we're rolling out our annual awards for best new automobiles, with us unveiling our favorite sports cars yesterday. To suss out the best of the best in every category, we prowled the earth's byways, from twisty roads in China to hilly thoroughfares in the south of France to the clogged intersections of…
Years from now, people will look back on 2013 as a historic time for gearheads. It was the year of the sports car. Among the machines unleashed on our roads: the all-new seventh-generation Corvette, the first new Jaguar two-seat sports car in more than 50 years, a new Euro-styled Viper, a slick 12-cylinder…
Dear Lifehacker,
I love my car, but it's getting on in years. It's paid off, which is great, but even routine maintenance now runs me a few hundred bucks, and the mechanic is always upselling me on additional repairs that are hundreds more dollars. Is it time to just retire my ride and buy a new car, or should I stick…
Dear Lifehacker,
My old jalopy is about to die on me yet again, so it's time for a new car. I'm wondering if I'd be better off leasing my next car instead of buying it. Which is the better deal, leasing or buying with an auto loan?
You can follow or contact Melanie Pinola, the author of this post, on or .
GM's OnStar system has just taken a leap into connectivity, adding audio Facebook updates, voice texting, and apps that control your car from your phone. Suddenly, your most expensive gadget might be your car.