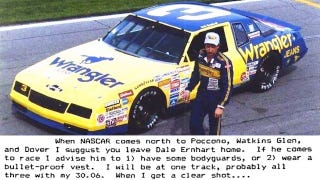 On May 17, 1987, Dale Earnhardt Sr. and Bill Elliott swapped paint and made a place for themselves in NASCAR lore. The Winston, a newly created all-star race at Charlotte Motor Speedway, came down to a sprint, with Earnhardt and Elliott jockeying for the lead. After bumping and nudging for two laps, Elliott got in…
Resident NASCAR idiot Kurt Busch continued his campaign of jackassery Saturday after the Nationwide Series race at Dover today, verbally attacking a reporter who dared to ask about the probation NASCAR imposed after Busch's May 12 incident with Ryan Newman.
Car racing once had mainstream appeal, and magazines were once capable of selling millions of copies without turning their covers into word soup. These classic Sports Illustrated covers perfectly embody that golden age.