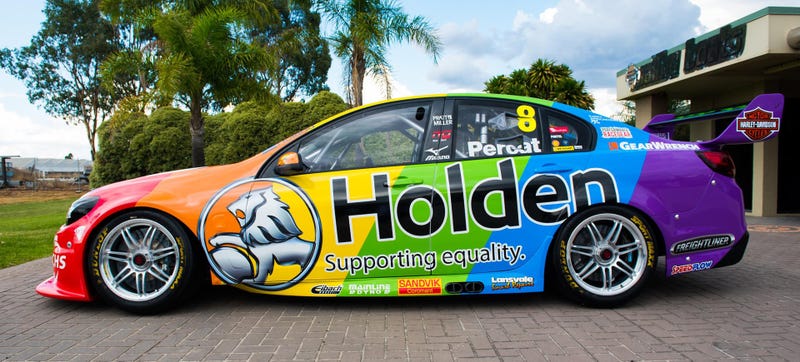 As Australia debates whether to recognize same-sex marriage, this Holden racing team made very clear where it stands.
Austrailian Supercar driver Mark Winterbottom lost his front brakes heading into The Chase after one of the fastest straights in motor racing: Mount Panorama's Conrod Straight. Here's why you need functioning brakes at the infamous Bathurst 1000.

This is a blind hill right before The Chase, the infamous section of Mount Panorama Circuit that was added to slow down the ludicrous speeds cars achieve on the Conrod Straight. It's one of the fastest parts of the Bathurst 1000, and cars can't see much above the crest of that hill.

The right front brake rotors of the No. 14 Freightliner Racing Holden VF Commodore erupted in flame on lap 54 of today's Bathurst 1000 when brake fluid spilled on the hot rotors. Normally, that's a sign that you shouldn't put the wheel back on just yet, but one determined crew man popped it on regardless.

Everything about the current V8-powered Australian Supercars is pretty extreme. The components on the car have to be pretty meaty to handle all the power and the door-to-door banging around these cars do. So, then how does a big fat transaxle linkage just snap in half mid-race?!
First rule of Australian Supercar driving: what's behind you is not important. (Well, unless it's Shane Van Gisbergen or something.)
One of the most brilliant, insane and unbelievable races of the year puts crazy overpowered sedans to battle around Australia's Mount Panorama. The Bathurst 1000 starts tomorrow night, and it's still disappointingly not broadcast on American television. It's the last time we'll get to see an all-V8-powered field,…
Australia's most insane, balls-out, ridiculous, I-can't-believe-this-is-a-thing-but-it's-great-and-please-more race, the Bathurst 1000, is next week. You should watch it. In the meantime, enjoy this lovely shot of Shane Van Gisbergen going full Burnout Competition Mode with his Holden Supercar.