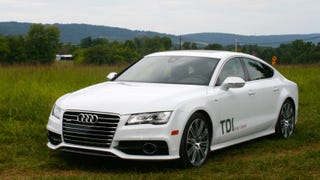 Audi has a bone to pick with you, Mr. Luxury Hybrid Car Shopper. They know you want fuel economy, but they think you're looking in the wrong place. They want you to consider their revised 3.0-liter V6 turbo diesel instead, and they invited a bunch of journalists to drive it and prove how efficient it could really be.
Company chairman Rupert Stadler has announced that in addition to Sebring on March 21, their new Audi R15 prototypes will also race in two more events in September and October.
A perfect image of the lust-worthy Audi R15 TDI LMP1 race car has surfaced and damn, it's awesome.