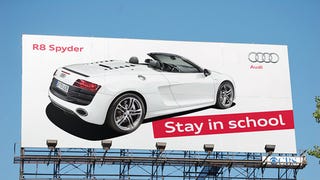 Audi's Iron Man sponsorship tie-up continues with Tony Stark adding an Audi R8 V10 Spyder to his garage along with a chauvinistic tagline for the second movie. Because, you know, a multi-billionaire superhero needs a car to get laid.
ABT's bringing a boatload of fresh product to the Geneva Motor Show, including tuned versions of the new Audi A8, R8, and R8 Spyder. The teaser? For some reason they've decided the ABT VW Golf is the way to go.
Do you like the V10-powered Audi R8 5.2 FSI but want something with a drop top? Good news! The Audi R8 5.2 FSI Spyder gets a power-folding soft top, and a whopping 476 lbs of extra heft to haul around.
As expected, the Audi R8 5.2 V10 Spyder just couldn't make it to the Frankfurt Motor Show without dropping its embargo top — again. Here's the first slew of low-res photos with more expected to come shortly. Gallery below.
Caught filming on the PCH for the upcoming Iron Man sequel, the Audi R8 Spyder's been spied again, this time with the top down and everyone's favorite comic book hero, Tony Stark, at the helm.
What you're looking at are some of the first images of the full production version of Audi's upcoming 525 HP 5.2-liter V10 R8 Spyder. It looks remarkably similar to our speculative illustration created last year.
We've already speculated what the
2010 Audi R8 Spyder
will look like, but now has video of the V10 roadster ripping 'round the 'Ring. That scream is coming from a suspected 580 HP 5.0-liter twin-turbo V10 from the . Though if you're not quite up for that much punch, the standard engine will be the familiar 4.2-liter…
Given the R8's brother-from-another-mother, the Lamborghini Gallardo, has been in drop-top form since 2006 it should come as no surprise we'd be seeing an Audi R8 Spyder at some point. Contrary to earlier reports, the R8 will not be a targa with a lift-off roof, but a genuine soft top convertible utilizing a similar,…
Driving around without any camouflage, this Audi R8 Spyder has been spotted testing in Germany. Besides the soft top, the first thing you'll notice is the lack of the R8 coupe's trademark "sideblades." The side intake has instead been molded into a more traditional scoop. Hiding under the top, there's suspected to be…
Someone in the know over at Audiblog.nl has spilled forth a detailed list of all Audi brand engines for all models through the 2011 calender year — and the release dates for new models. In addition to the big engine news, the leakers claim that we'll be seeing the rumored Audi A7 model in June of 2010, as well as an…