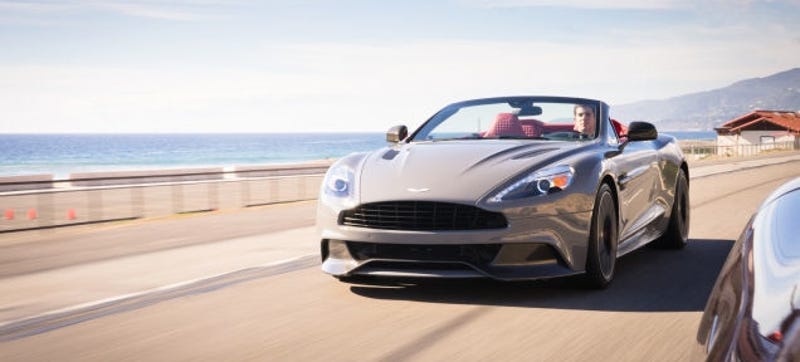 A scream rang from across the canyons. A dull roar, really, dull only because I haven't yet punched it, sitting Right Here in an Aston Martin Vanquish, and I am in a devastating, crippling traffic jam that only the Malibu hills could provide: Ferrari 430, McLaren MP4-12C, Nissan GTR, Maserati GranTurismo…
To celebrate Aston Martin's 60th anniversary at the Newport Pagnell office, they're minting six special Vanquish variants with yellow accents and an incredibly cool touch to the interior. The car's six rotary control dials are repurposed pistons from historic Aston Martins.
Every onlooker gawks with obvious jealousy at the curvy rolling statue Aston Martin created and then, for some reason, loaned to me for a weekend. Jealous of what, exactly? I'm frankly terrified of having to dodge a million ankle-deep potholes and trying not to scratch the carbon fiber bumper against a cab. The Aston…
I can tell you right off the bat that my favorite Aston Martin is the V12 Vantage. It's a manic machine with a short wheelbase and a monster motor. It's not the best Aston though, because it still suffers from the same issues that affect all of the current crop of cars from Gaydon. The center stack is fitted with…
Aston Martins have gotten a bit stale over the last few years as the company plans for the future, but that doesn't mean they don't still look amazing. Take the Aston Martin Vanquish. Yes, it's only producing 565 horsepower from its massive V12, but it's still like a giant bespoke condom.
When Aston martin unveiled their AM310 supercar concept at Villa d'Este, everyone knew that it would become the company's next flagship. Now Motor Authority has leaked the production version and it's not quite as super as you might have imagined.
Megadeth singer and guitarist Dave Mustaine's a wealthy man. His 2004 Aston Martin Vanquish S has hit 120mph with a sheriff riding shotgun. His first car, however, was an $80 Renault. It's good to be the king. [TheGlobeAndMail]
It's a dream come true for petrolheads who love both understated style and complete control: Aston Martin offers a factory conversion service to ditch the Vanquish's semi-automatic gearbox for a stick.
Light graffiti is the art of combining long-exposure photographs with high-intensity light sources waved around in thin air to create an image when the shutter closes. Very cool. Even cooler when you're drawing some seriously spectacular cars.