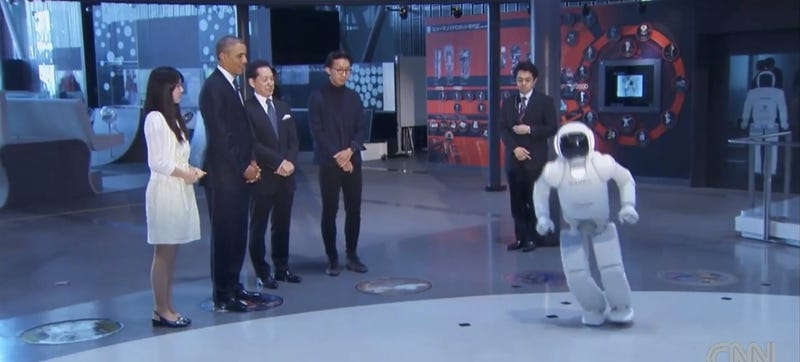 We all know Vice President Joe Biden is America's chief car guy, but his boss can get down with car companies just fine too. He's just more into their robots, it seems.
New updates to Honda's robot Asimo allow it to now move without the assistance of a human operator, travel over uneven surfaces, and better recognize voices and faces. Now Asimo not only can find us no matter where we hide and hunt us down over even the roughest of terrain, but it also can't be turned off. Thanks…
"Maximum" Bob Lutz's glowing orange "tan" was not the creepiest part of the Detroit Auto Show. It's this tiny "robot" with a tiny person (we hope) inside. Either they're an escaped Chinese political prisoner or the Chrysler version of ASIMO.
This is one case where we can't improve on the caption: "Ketch and Hiro-pon, members of the Japanese pantomime group Gamarjobat, take part in a promotional ninth birthday party for Japanese auto giant Honda Motor's humanoid robot Asimo."
Honda plans to take over the world, starting with the Rose Bowl parade. Their tool of destruction? A five story tall ASIMO robot. We for one, welcome our new robotic vanilla overlords.
Our techtastic siblings over at Gizmodo posted this video of the new, improved and non-faceplanting version of Honda's Asimo robot trying out for a spot on the LA Galaxy squad, auditioning for an O-Town backup-dancer position and proving that he really can climb stairs. No word on whether jogging helps him keep his…
Oh no...not again! It really is creepy how lifelike they look, even when they're falling — but the folks at Honda certainly learned after this, the first stumble of the Asimo tumble-bot, the importance of having a good screen nearby.
After a mishap during a product demonstration in Japan, Honda reps spring into action, shielding their fallen robot comrade from view as they assess his injuries. Just prior, as Asimo hit the floor, smashing his space-helmet faceplate, he (he?) says something that sounds like "sleeping" and "accident." We distinctly…
The newest ESP technology from Honda has not a thing to do with traction control. The company recently demonstrated a system through which brain signals can guide a robotic hand. Holy crap, you say? Yes, exactly. Developed with Japan's Advanced Telecommunications Research Institute International, the system uses…
Just in time for the holidays, Honda debuted a new version of its ASIMO humanoid robot than can play the role of office lackey. The new version, the company says, can "pursue key tasks in a real-life environment, such as an office" and has a broader range of physical capabilities. It can sync up with people — walking…