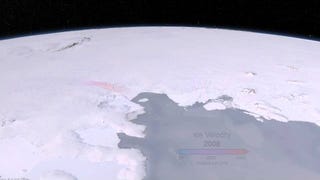 For decades, scientists have feared the collapse of the West Antarctic ice sheet—a vast swath of ice that could unleash a slow but unstoppable 10-foot rise in sea levels if it melted. So here is today's terrible news: we now know the ice sheet is melting. And there's pretty much nothing we can do about it.
One hundred years ago yesterday — December 14th, 1911 — Roald Admundsen and his team of Norwegian explorers became the first humans to reach the South Pole, pulled by sled dogs. But it wasn't until 1963 that the first production car landed on Antarctic shores, a mostly-stock VW Beetle known as "the Red Terror." This…
A team of researchers made the 3,000-mile round trip journey from Novo Air Base to the South Pole in a team of four jet-fueled Toyota Hiluxes outfitted by Arctic Trucks to stand up to the Antarctic cold.
Designer James Moon's concept snow tracker, called Ninety Degrees South, could be the ultimate niche vehicle. It's projected as an extreme SUV (the first letter standing for "scientist's") that can travel over Antarctica's unique terrain of rocks and snow. A novel interplay of tracks and wheels, driven by a…