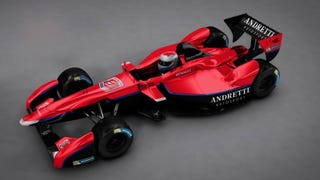 Formula E is the first all-electric race series in the world. The goal for the definitely not vaporware series is to have 20 cars on the grid when it launches. As of last night, just four cars were confirmed. But the series got a boost this morning with the addition of Andretti Autosport as a team. That's American…
Last weekend, racer Bruno Junqueira qualified for the Indianapolis 500 in 19th for A.J. Foyt's team. Yesterday, he sent a single tweet: "I got bump." His replacement? A large check from Michael Andretti's team.
The green flag dropped on the 93th running of the Indianapolis 500 and almost right away two cars went into the wall. Mario Moraes and Marco Andretti tangled in the first lap. The 22-year-old Moraes was apparently on his cell phone and not paying attention, pushing Andretti into the wall.