Looks like the Feds are suing to stop the American/US Airways merger.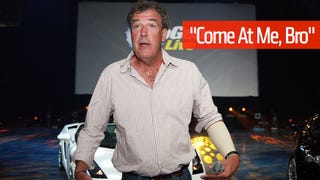 Full-time gin-soaked British flamethrower and occasional Top Gear host Jeremy Clarkson is known for his strong opinions about nearly everything. He has no filter, and when he feels like he's been wronged in some way he reacts by venting his spleen, pancreas, liver, lungs, and whatever organs he has left in the…
Passengers on an American Airlines flight from Dallas to Chicago were about to take off when an angry flight attended started screaming about the plane crashing. The crew and passengers had to restrain the woman. Welcome to your new flying nightmare.
American Airlines, which can trace its history back to 1926 and Charles Lindbergh, filed for bankruptcy protection through its parent company AMR Corporation it announced today. It's the last of America's major airlines to file.
Complain about gas prices lately? American Airlines spent an extra $524 million on fuel in just three months. Thus, they just announced the largest commercial airline purchase in history: 260 Airbus A320s and 200 Boeing 737s. Both are more efficient.