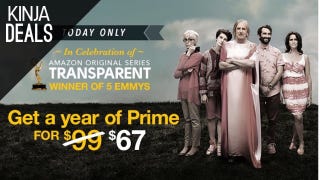 Amazon has added so many benefits to Prime that they've become hard to keep track of, so we're rounding them up for you, and will update this post as new ones roll out. Sadly, we can't list drone delivery as a perk just yet.
You've reached the hub for our Amazon Prime Day coverage. Below you'll find all the best deals from the event, linked as they go live. You need an Amazon Prime membership to take advantage of the sale, so sign up for a free trial now if you haven't already. We'll be covering all 24 hours of the event here, as well as…
Top Gear fans who already burned through seasons 9-12 of the popular British motoring show who join Amazon Prime can view a mix of other seasons streaming on their site for free. Look, a review of the 2005 Chrysler Crossfire!