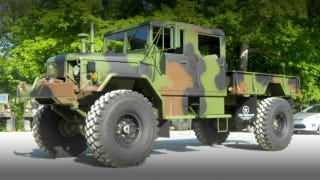 If you're on the market for the ultimate small car-crushing offroad rig, look no further than this rebuilt 1971 AM General M35A2 Custom Crew Cab. C & C Equipment, a custom truck shop in Indiana, completely refurbished the thing with awesome '70s-vintage camo paint and modern, more comfortable seats.
Hummer is the quintessential American brand — an allegory of everything right and wrong with our great nation. Now, after a failed sale to the Chinese, the brand is dead. So what does this say about America?
Chinese carmaker Changfeng and US defense contractor AM General are looking to team up for a bid to buy Hummer from GM. Feel free to begin construction on that fallout shelter now.
The Standard Taxi by VPG Auto has been working the publicity circuit for a while now, but it appears AM General may step up to actually produce it. With the likely death of the Hummer H2, AM General will have excess capacity at its Mishawaka, Indiana plant. Assuming VPG can secure financing, they'll be able to start…
AM General's new HumVee gets itself snapped by car spy photogs. Don't they know loose lips sink Hummers? [Autoblog]
German magazine WirtschaftsWoche, whose name is neither more nor less ridiculous than any other German magazine we quote, is reporting that DaimlerChrysler is abandoning its majority stake in Setareh, the exclusive distributor of Mercedes-Benz products in Iran. The magazine sites a source who says increased pressure…
San Pedro pretty much has the coolest mailmen ever. They wear shorts year 'round. One of them, a studly, self-confident, swarthy man in aviators with a hipster haircut that he totally pulls off, refers to us as "Chief." Note that "Chief" is our favorite nickname that doesn't have anything to do with the ladies. In…

AM General, the maker of all things Hummer, will be shutting down the H2 line for two weeks this month in order to right-size production to match up with slowing sales. The plant employees about 600 from the sleepy little farm-filled hamlet of Mishawaka, Indiana. Which, in many ways we feel, might remind us a…
We reported the other day that Hummer's killing the H1, and now we've received the announcement to dealers from a reader. One of us here at tha Jalop has the take that AM General was making more cash with an all-mililtary production line. The other part of it, we're sure, is that GM wasn't making a helluva lot off of…
GM's announced that the Hummer H1 will cease production this year, saying that they want to take the brand in a more mass-market direction. We think this is dumb, not so much the wanting-to-increase-sales thing, but killing the vehicle that started it all. Of course, the H1 is a ridiculous machine. But it's a halo for…