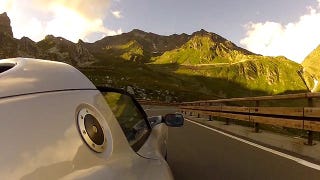 There's no question that the Lotus Elise is a standout car. But if you've ever doubted it, watch one slice through the Alps and you'll understand.
Nestled in the Italian Alps, Lake Como is a novel desitnation on its own. Throw in several dozen rare, exotic, and concept cars, and you've found paradiso. Eccola! (that's Italian for voila! Last weekend's Concorso d'Eleganza Villa d'Este attracted a host of drool worthy cars and motorcycles over the weekend.
Janitha Karunaratne took advantage of the BMW factory pickup option for his new 335is to launch a 10-day, 1,000-mile drive of the twistiest pavement in the Alps. Here's the six-minute video version for those twisting in an office chair.
Swiss hippies involved in The Young Green Party have collected 120,000 signatures to validate legislation aimed at banning SUVs, off-road vehicles and sports cars. The referendum on the topic will be held within 18 months and, as far as we can tell, is the most anti-fun, anti-free-market steaming pile of proposal ever…