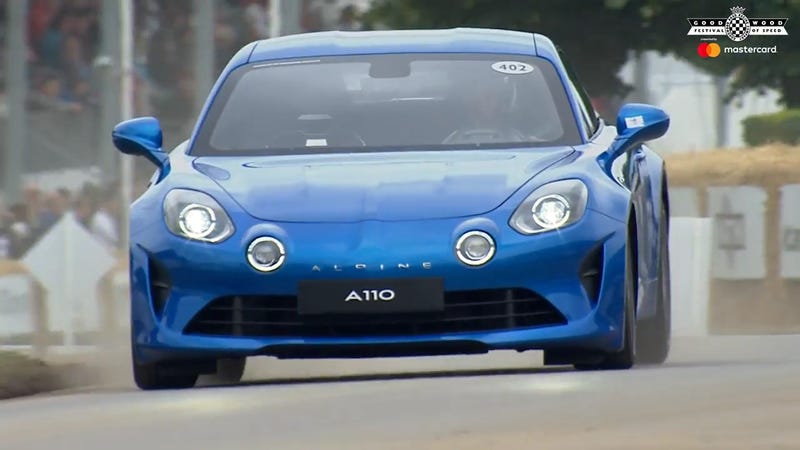 It is increasingly clear that America is not good enough for the like-an-Alfa-4C-but-livable Alpine A110. Damn it. Damn it to hell.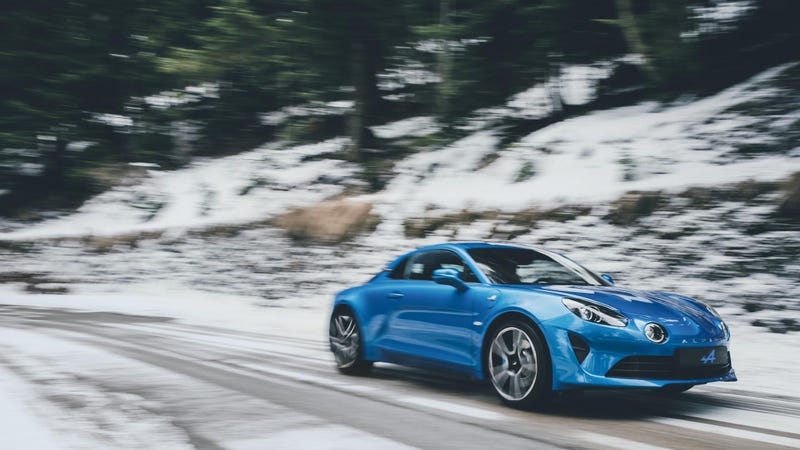 Just 1.8 liters, four cylinders and 252 horses don't sound that impressive by modern standards. But when you remember that motor has been massaged by RenaultSport, and that it goes in the reborn Alpine A110, you know you've got something good going on.
Oh, hey there. What do you like to do for fun? What's that? Torture yourself by watching videos of things you can't have, like the Alpine A110? Samesies!
Look, look at that photo of Renault's reborn Alpine A110. It is so fast and lightweight and fun! Where could it be driving to? I'll tell you: away from America.
For a few years now, the thousand-kilo Alfa Romeo 4C has been alone as the only sports car worth giving a shit about, and finally it has a production car rival. This is the Alpine A110, with 252 horsepower and a kerb weight of 1,080 kilos. That's 2,381 lbs for those of you missing the glory days of sportscardom.
Hey, look, Alpine's back! For real. The famed French sports car brand now under Renault's wing is set to debut an all-new sports car, which we now know is called the A110, and we'll see it in about a week at the Geneva Motor Show. It's not bad at all.
The newly-reborn Alpine isn't just a reanimation of a single deceased sports car brand; it's part of a revival of an entire kind of car, years ago left for dead.
Alpines are pretty special and while we wait for Renault to figure out how to bring back the brand that has been dead since 1995, Petrolucious is here to tell the tale of a German man who fell in love with these gorgeous French beauties forever.
Renault wanted to have its own Porsche 911 for a long time, and while the Alpine project was halted by Caterham's departure from the venture, the sports car is reportedly ready to hit the streets in 2016 after debuting at the 24 Hours of Le Mans followed by a run up the hill at Goodwood.
The company behind the re-imagined New Stratos confirmed in an email today what we first reported back in July: Ferrari won't let them build it. But, they also hinted at a new, more French direction for their next car.