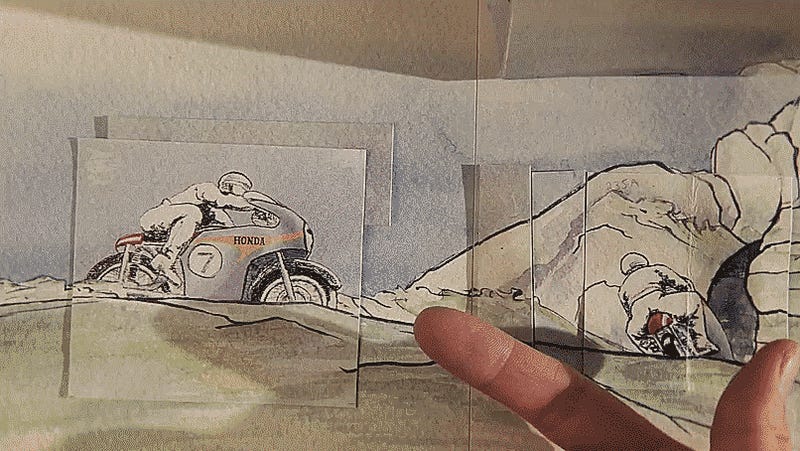 Stop motion artist PES just released Paper, a short film turned ad depicting just some of the iconic vehicles throughout Honda's history. How many of the motorcycles, cars, boats, and planes can you name?
This is not an optical illusion, but it takes advantage of exactly the same principles that make optical illusions work: Our eyes and brain don't scan reality like a camera does. Instead, the brain interprets external inputs, building its own reality. No spoilers, just watch.
In the summer of 2011, I was having a breakfast with my English friends at a posh restaurant on the bank of the Danube, and we started an argument about cars. That wasn't surprising, since after finishing our coffees, we were about to go on short road trip to Etyek, a wine region not far from Budapest. Two cars were…
Chrysler's Clint Eastwood ad was the most controversial commercial (for various reasons) of this year's Super Bowl. But it wasn't controversial enough that someone acting on behalf of the NFL should have had it pulled off YouTube. How and why they did it demonstrates just how easy it is for someone to falsely claim…
L.A. Lakers star Kobe Bryant hasn't come close to Michael Jordan's record of corporate endorsements, but as this Chinese ad for Smart shows, he's honing the necessary skills, such as Beijing-quality stunt driving and one-handed nailing of art thieves.
Created to promote the Copenhagen Zoo, this full bus wrap instead makes us think we're gonna need a bigger bus. Still, even riding a snake-crushed bus seems to beat flying these days. [AdsOfTheWorld]
Audi released this clever TV spot depicting what looks to be a human wave creating a 2009 Audi Q5 and all of its mechanical bits for its Asian premiere at the Audi Grand Motor Show.
We sometimes come across a funny ad that we just don't get. We get these ads for the Renault Logan. They're crude, of questionable taste and utilize glorious word mashing URLs.
With everyone looking forward to the new James Bond movie, Quantum Of Solace, there isn't a brand out there that doesn't want a slice of juicy cross-promotion. We can't imagine Bond to be the type that would prefer a sugar-free cola over a normal Coke, but that doesn't matter right now. We're just let down by how…