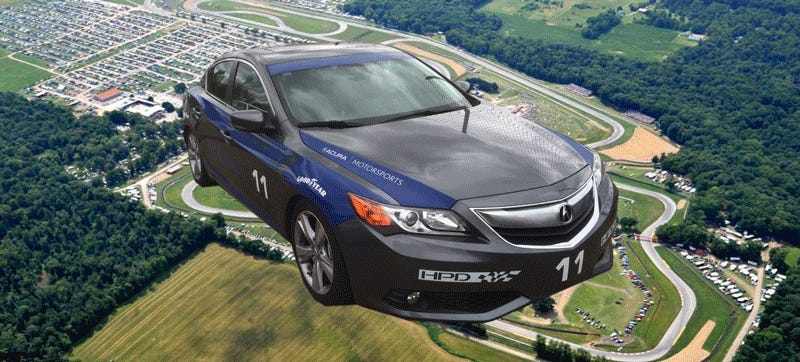 I may be the last person you'd ever want on your endurance racing team. Success in motorsport comes with talent and and experience, and while I'm no stranger to the track—not always in good ways!—I've never done any actual wheel-to-wheel racing before. So when I was tapped to race Road &…
Giving us further proof that Acuras look far better in race spec than in Grandpa-spec, Acura released this pretty picture of an ILX that they plan to reveal at the New York International Auto Show alongside their flagship NSX supercar. Behold, this is the endurance racer they're taking to the 25 Hours of Thunderhill.
I think the problem with Acura these days is that they really aren't given much to work with. That's why the entry-level Acura ILX is basically a dressed-up Honda Civic Si, and also why it hasn't sold especially well. But Acura says they have big changes for the ILX coming soon.
Oh, Acura ILX. I had such high (well, moderate) hopes for you. You're pretty boring in the looks department like all modern Acuras, but you have Civic Si guts. I was hoping you'd hail a return to the sporty Acuras of my youth. But as Honda will readily admit, the ILX has been struggling at launch.
The Acura ILX, the Honda Civic with a proboscis prosthetic first shown as a "concept" last month at the Detroit Auto Show, was whipped out here at the Chicago Auto Show today in its full production trim.
Acura knocked the room for a loop with a haymaker called NSX. Here's the other end of the Acura excitement spectrum. It's the ILX, a car with which Acura hopes to attract younger buyers; older, downsizing urban dwellers, and those for whom a doctor has prescribed the avoidance of excitement of any kind.