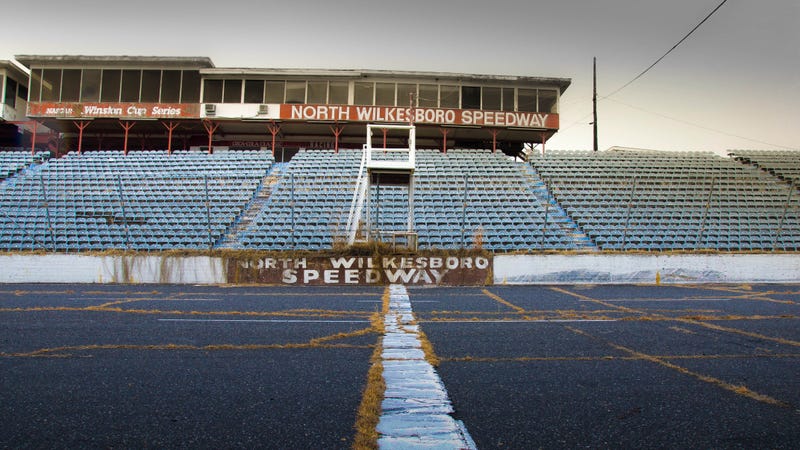 The North Wilkesboro Speedway opened in 1947, nearly a year before NASCAR was founded. The short track near moonshine country was where the first NASCAR champion, Robert "Red" Byron, was crowned. Today, five years after being abandoned, the historic speedway is just a rotting pile of sticks, crooked chairs, and…
After a weekend away I returned to NYC on a Sunday evening. Inevitably all the primo spots were taken, so I was forced to venture into the depths of the multi-level garage. As I idled along, eyes trained for any open spot, my brain registered what I'd just passed and I immediately forgot all about parking.
Located off the coast of Nagasaki, the long-abandoned Hashima Island (also known as "Gunkanjima" or "Battleship Island") was the inspiration for Raoul Silva's lair in Skyfall. Now, thanks to Google Maps, you can visit the island on Street View.
For 50 years, the Greenwood Roadway sat amidst rolling hills near Indianola, Iowa, slowly being overgrown by prairie grasses. Its surfaced is cracked, and in some places it's gone altogether, but the nostalgic fondness for the three-mile circuit has not been lost on race fans across the Midwest. This all came to a…
According to Flickr user captainslack this 60s Cadillac convertible is somewhere in New York City, more specifically Brooklyn, and it's been there for quite a while. This excellent picture was taken in 2008 which leaves us wondering if the old convertible is still around. Anyone in or around NYC know where this…
As if having to drive around town in a very worn Neon or Vauxhall with the words "STUDENT DRIVER" pasted on the windshield isn't bad enough, a student driver in Reading, England was left on the side of the road halfway through her driving test. It all started when the handbrake on the car failed while on a hill,…