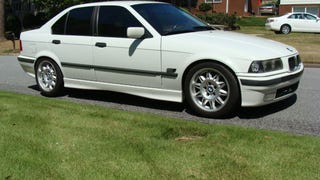 BMW is often touted as the Ultimate Driving Machine, while Ford's Mustang V8 is said to offer the biggest bang for the buck. Today's Nice Price or Crack Pipe 3-Series combines them both for what's maybe the Ultimate Banging Machine?
What happens when technology answers a question nobody asked? Sometimes billions are made. Other times, needless technical complexity makes for a more complex experience. Such is the case one Car and Driver reader made in the mag's July '07 issue. In a letter to C&D, he directs our attention to the BMW 328i, whose…
Want to be the first in your planned community to have a new BMW E92 coupe? Get on this, what could be the first offering of a 2007 BMW 328i on eBay. The price stands at a hefty $40,420.00 (MSRP: $35,300), and there are no bids yet. Specs are as follows:
Go, early birds, go. [Thanks to Ari for the tip.]
By early 2007, BMW's 3-Series retractable-hardtop convertible will roll into showrooms, smug in the satisfaction that it's both 328i coupe and convertible. At least, that's what the talk has been among those Bimmerheads who are waiting on the next E92 models hungrily. We'll see at the Paris show.
An upright citizen of matchless character has posted BMW's pricing sheet for the 2007 335i coupe on e90 Post today. According to the sheet, that spanky new twin-turbo mill is putting $3000 psi in upward samolians pressure on the 3-Series: