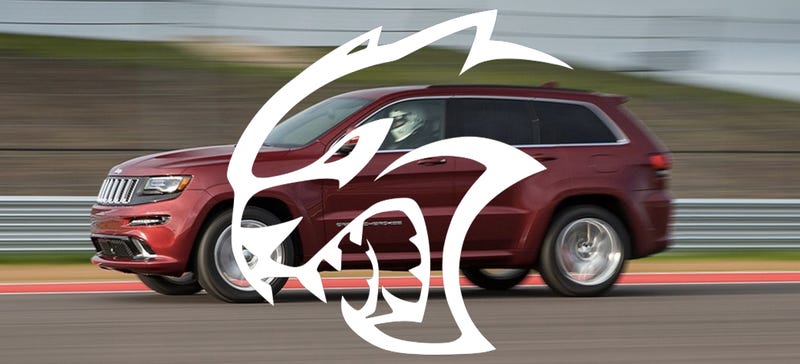 Before you stick your tongue out and spit at another overpowered high-riding 4WD, consider the business case for a 707-horsepower Hellcat-style Jeep Grand Cherokee Trackhawk. Modern muscle cars are selling. SUVs are even more popular. Everybody loves Jeep. And what better way to increase margins than to spice up an…
There have been rumors for a little while now of the once-unthinkable happening – the 707-horsepower engine from the Dodge Hellcats getting stuffed into the frame of the Jeep Grand Cherokee, to make a Jeep Grand Cherokee Trackhawk. Now multiple reports say that Chrysler's actually built one, and they're showing it off.
Journalist Joel Feder over at Motor Authority says a 2017 Jeep Grand Cherokee "Trackhawk" with the 707 horsepower Hellcat engine, AWD, and a ZF 8-speed automatic is really actually definitely on its way to production. Which would be insane, amazing, and a whole lotta awesome.